Interning / Volunteering at ASSITEJ SA
ASSITEJ SA is pleased to work with interns and volunteers on various projects throughout the year.
2012 Interns: Chandre Jordaan (Fit For Life), Sandiseka Vuma (FFL), Eudene Moses (FFL), Azama Rorwana (FFL), Anaelle Lamoly (Reunion), Anne Tricotteux (Netherlands), Karlin vandendungen (Netherlands)
2012 Volunteers: Graeme Aegerter (USA)
2013 Interns: Mathley Meintjies (WC), Shaunte Fritz (WC), Gerald Pieterse (WC), Junior (WC), Bulelwa Tobi (WC), Siphiwo (WC), Chandre Jordaan (FFL), Jake Tempchin (USA), Joseph Sung (USA), Manon Brard (Reunion), Pauline Dalais (Reunion)
2013 Volunteers: Denese Palm, Yusrah Bardien, Angela van Schalkwyk, Themba Mzondi, Sonwabile Mayekiso, Alison Green, Kyla Davis, Joanna Hardie, Allen & Audrey Howe, Jon Keevy, Pauline Dalais
Vrygrond Family Festival Volunteers:
If you are interested in volunteering or interning for the organisation, please contact Chandre, on office@assitej.org.za or phone 021 822 0070/1/2.
2012 REPORT ON INTERNS
As part of ASSITEJ's commitment to working with the local community and other other NGO's in Vrygrond, they were delighted to welcome two interns Chandre Jordaan and Sandiseka Vuma from the "Fit for Life"programme to ASSITEJ SA, who spent two months assisting in general admin work. Both proved themselves to be an invaluable help in the office, and learnt new skills.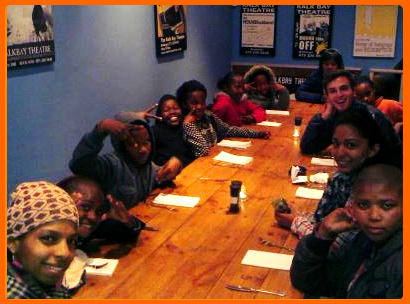 Interns - Chandre, Sandiseka and Anaelle with the VIPs at Kalk Bay Theatre.
From Monday 9th July to Friday 13th July 2012, The VIP's Holiday Programme occured in Vrygrond. Vrygrond Iingcungela Players (VIP's) is a project established by Pieter Bosch Botha, one of the ASSITEJ SA's project managers. This Holiday Programme was facilitated by Graeme Aegerter, a volunteer student from Chapman University in the US.
Using games and improvisations, VIPs aims to teach these children how to respect one another, be tolerant and creative, through building a project together.
During the week, they rehearsed songs they created, including a remix of 'Someone Like You' (Adele) and 'South Africa United with America' (in Beatbox, which they created themselves). They also performed a funny skit ( about a teacher that goes mad because of her pupils) and an African dance. They performed these pieces on Tuesday 17th July for the ASSITEJ SA's members - all were impressed by the performance.
Written by Anaelle Lamoly from Reunion Island, volunteer at ASSITEJ SA.